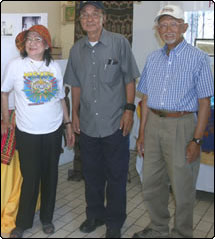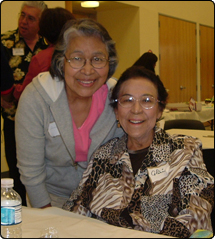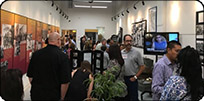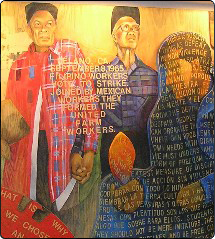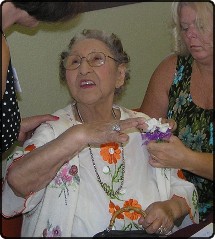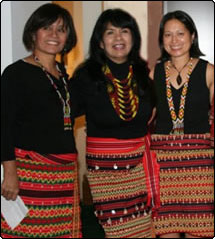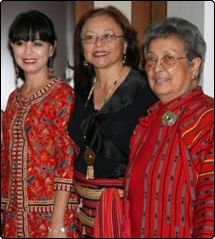 News and Events
Local News
FANHS Sonoma Presents: Kulturang Pilipino - a Celebration of Filipino Culture & Performing Arts
In celebration of Filipino American History Month this October, FANHS Sonoma will present Kulturang Pilipino, an afternoon of cultural entertainment. The event will showcase an illustrious lineup of Filipino-American artists performing both traditional and contemporary works. Performers will include Actor/Musician Hari Bayani accompanied by Guitarist Josh Icban, music and dance by The San Francisco Kulintang Project, Kali Martial Artist Michelle Bautista accompanied by Poet Janet Stickmon, Traditional Dancer Jenny Bawer Young, and others yet to be announced. Renowned Comedian Ricky del Rosario will serve as Master of Ceremonies.
The celebration will take place on Saturday, October 14, 2017 from 11:30 to 3:30 at the Finley Community Center Auditorium, 2060 West College Avenue, Santa Rosa, California 95401. Doors open at 11:30 with a traditional Filipino lunch served at 11:45 and the program beginning at 1:00. A silent auction and raffle drawings will take place throughout the day. General Admission is $25 advance purchase or $30 at the door; Senior Admission (62+) is $20 advance purchase or $25 at the door; Full-time Student Admission (11+) is $15 advance purchase or $20 at the door. FANHS Sonoma County members receive a 10% discount.
Event proceeds will benefit FANHS Sonoma's annual Katherine "Kay" Baguio scholarship award, and the Scholarship Endowment Fund. FANHS Sonoma has already raised more than 30% of the minimum funds required to establish a permanent endowment. Once in place, it will ensure the chapter's long term ability to continue its tradition of awarding educational scholarships to local youth every year.
To learn more about the 2018 Katherine Baguio Scholarship award and how to apply, to go Projects.
Sonoma County's Day of Discovery — a Hit for FANHS and Local Historians
Congratulations are in order for co-sponsors Sonoma County Historical Records Commission and the Sonoma County Library on their extremely successful, first ever, Finding History in Sonoma County—A Day of Discovery event, held May 21, 2017. FANHS Sonoma, represented by members Michael Viloria, Alicia Viloria Watson, Delia Rapolla, and Pat Romero, was honored to be included as a participant, along with 30 other Sonoma County historical organizations. Held in the Santa Rosa West end neighborhood's DeTurk Round Barn, the historic landmark was the perfect venue.
Exhibitors—including California Indian Museum & Cultural Center, California State Parks, Glen Ellen Historical Society, Healdsburg Museum and Historical Society, Historic Railroad Square Association, North Bay Italian Cultural Foundation, Charles Schultz Museum, Santa Rosa Rural Cemetery, Petaluma Museum Association, National Heritage Responders—just to name a few, proudly displayed their collections of old photos, artifacts, and informational materials. Some dressed in period costumes. Well-known and revered columnist, writer, historian, and storyteller Gaye LeBaron provided the welcoming address, and related the history of the DeTurk round barn, built in 1891 by winemaker Issac DeTurk for his prize-winning race horse Anteeo.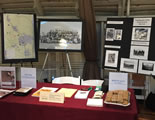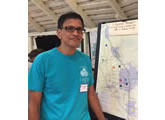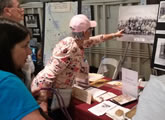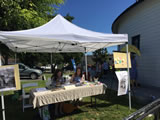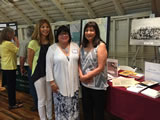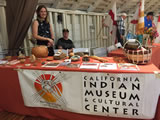 FANHS representatives were happy to share the history or our Manongs, and their substantial contributions to Sonoma County's agricultural industry starting in the 1920's; and to inform the public of FANHS' mission to gather and preserve the history and culture of Filipino Americans in Sonoma County. In turn, we learned many interesting, and heretofore unknown, facts and information about Sonoma County's wide-ranging history, its people and cultures. And we hope for and look forward to many more Day's of Discovery in the future!
FANHS Museum Now Open in Stockton!
After more than 20 years in the making, FANHS celebrated the grand opening of its historical museum in downtown Stockton last October. FANHS selected the central valley city as the museum's home site because of its historical significance in Filipino American history. A key crossroad for newly immigrated Filipinos in the early 19th century, it served as both an agricultural hub for Filipino farm workers, and a welcome waystation where those passing through could find familiar faces, traditional food, and kababayan camaraderie. A wealth of Filipino American history is on display at the museum, and plans are underway to feature exhibits from each FANHS chapter as well. For more information about the museum, including location and hours, go to http://fanhsstockton.com/fanhs_museum.
California High School Curriculum to Include Filipinos' Role in World War II
In July 2016, the California State Board of Education approved a new curriculum framework for high school students that includes content about World War II in the Philippines, and the significant role of Filipinos who fought alongside the United States as members of the United States Army Forces in Far East. The change comes after years of advocacy work by the Filipino American community and the Bataan Legacy Historical Society. By requiring this content in California's curriculum, the change builds upon earlier legislation such as AB199 which encouraged inclusion of such content into California curriculum, and AB123 which required inclusion of Filipinos' contributions to the California farm labor movement. California is the first state in the country to include this content in its curriculum, according to the Bataan Legacy Historical Society. The new curriculum is now being developed for 11th grade U.S. History content.
National News
Bataan Death March Veterans Honored
On April 8, 2017 the Bataan Legacy Historical Society commemorated the 75th Anniversary of the Bataan Death March with a Valor Run, and a Wreath Laying Ceremony at the WWII West Coast Memorial in San Francisco. It was a long- awaited recognition of Filipino and American soldiers who valiantly fought side by side in the Second World War.
The brutal march began on April 4, 1942, when the US surrendered the Philippines' Bataan Peninsula to the Japanese Imperial Army. Seventy-five thousand Philippine and US soldiers, along with civilians, were forced to walk 65 miles in the sweltering heat of tag-init from Mariveles to San Fernando, Pampanga and finally, Camp O'Donnell, Capas, Tarlac.The prisoners suffered severe abuse and senseless killings. Weakened by starvation and sickness, many perished along the way. Those unable to walk were left to die. Those who survived were taken to San Fernando train station and crammed into stifling boxcars bound for prisoner-of-war camps where many died of starvation, mistreatment and disease.
It wasn't until February 1945, nearly three years later, that US General Douglas MacArthur made good on his word to return to the Philippines. US-Philippine forces then recaptured the Bataan Peninsula, and liberated Manila that March. A military tribunal tried and convicted Lieutenant General Homma Masaharu, Commander of the Japanese invasion Forces in the Philippines, for war crimes, after finding him responsible for the death march.
The Bataan Legacy Historical Society's foremost goals are to include this seminal part of World War II history in high school history and social science curriculums throughout the US, and to document the stories of WWII veterans and survivors in the Philippines.
Sonoma County resident MaryAnne Tabor, daughter of John Tabor, shares the story of her father's own experience in War World II in this excerpt from Remembering Our Manongs, Sonoma County's Filipino American History. It is a poignant testament to the resilience and tenacity of a man who endured the dark days of war, then immigrated to the United States where he raised a family, and established himself as a successful business owner and community leader.
…And when the war broke out, he was teaching, so he was immediately enlisted in the American Army. He was a survivor of the Bataan Death March. He was captured and taken to a prison camp. He was thrown amongst the dead in the prison camp because he had been so emaciated from starvation and dysentery that they didn't even think he was alive. He had been down to skin and bones and was able to through escape through the wires. He then joined the Philippine Scouts in the mountains and he fought as a guerrilla until the end of the war.
Calendar/Upcoming Events